News page:
22.02.2006
Filter Formula now free of charge !
As the current version has not been updated for a long time, we have decided to give away Filter Formula professional edition free of charge - as a limited offer, that may be revoked when a new version is available. Please understand that we cannot grant any support for this free software. Please visit our download page to get your free copy of filter formula!

---
25.05.1999
Secure On-line Ordering on our Homepage with special discount prices!
We have finally implemented our own on-line ordering system.
At the same time, we have changed our accounting to EURO, the new european currency. See our prices and availability page or directly enter our download page!


---
17.04.1999
New pages in Homepage
We have added a filter written by Thomas Bernt in the "Share your work" section
A section in "Tips & Tricks" describes how you can create background patterns by means of FilterFormula
---
10.03.1999
Announcement of FilterFormula Release 1.1

This release will be available for download within the next two weeks.
The following new features have been incorporated in this version:

An image file can be used as a background for the filter dialog box. The format is the Windows standard WMF into which each image format (bitmap and vector graphcs) can be easily converted.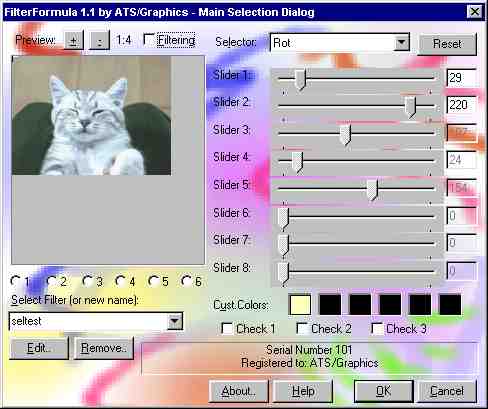 Default values for the sliders can be defined. They are applied when the "Reset" button on the dialog box is pressed. The default values can be either one number or a number range from which the value is selected randomly.
A selection combo box gives the possibility to select from a (usually small) number of options that are characterized verbally (in contrast to the only-number selection with sliders) - the texts are obviously defined by the user.
Now up to six coordinates (instead of only one) can be manually selected in the preview window.
Besides that, with release 1.1 some organizational changes take effect:
The 30-day limitation for the shareware version remainls only legally, but is not checked any more.
To enforce a bit the readyness to register for FilterFormula, some small restrictions have been incorporated in the shareware version: You can only select from five filters in the filter selection box (instead of 15), pictures are filtered only up to 200000 pixels (which is a size of 500x400 or equivalent) and a small - nearly invisible - noise (level +/- 5) is added to the filtered image.
Please note that this release is probably the last release of FiFo with the same internal file representation - the next version will require to recompile (eventually redefine the slider names, counts etc.) all stored filters!

New Pricing:
The full version of FilterFormula is now split into two different offers:

| | |
| --- | --- |
| small edition | US$ 30 |
| professional edition | US$ 55 |
The only difference between both is that the "small" version does not allow you to create standalone filters, whereas the "professional" version is the same as before. The small version is just for users who want so save some dollars by omitting a feature that they do not really need (they can import & export "FilterFormula interchange files", though).
Notice: If you register until March 31st, you will only have to pay the old price of US$ 49 for the "professional" version - you save US$ 6 !
Of course, all previously registered users of FiFo will be sent the newest release via e-mail. The newest build of the full version can always be downloaded from our site by entering your name and user-id.